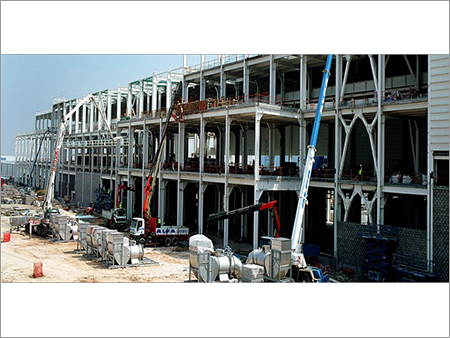 Prefabricated Industrial Buildings
Product Code : 03
Product Description
Our company creates Prefabricated Industrial Building, which is a gleaming, convenient, safe and comfortable work environment for your representatives. With practically no manufactured daytime lighting required, these pre-created texture structures are composed and designed to adjust to overwhelming modern use. These structures are made with numerous accessible choices, for example, deplete vents for vapor, or hot plunged galvanization for destructive situations. The offered structures are intended to meet and surpass the construction regulation necessities for the territory where are fabricated. This adaptability is the thing that makes our structure so prevalent in quickly developing enterprises, for example, mining and oil and gas. Prefabricated Industrial Building services are offered by us at market leading rates.
Advantages of Prefabricated Buildings

Prefabricated buildings are a result of construction practice, that includes assemblage of multiple components of a building structure at a fabrication store and transporting the fabricated sub-assemblies to the location of the construction job site. There is a myth about prefabricated buildings, that its construction is low-end and it is only a mass produced mode of construction. But the truth is it is practiced more commonly and it can be made to suit any budget. Prefab buildings offer numerous perks to both, businesses and customers.

Eco-Friendly

Prefab building making process is modular, which is a sustainable process that saves a lot of energy. Whereas, conventional process of constructing building requires extra materials which can cause waste in increased number. The other way that describes how prefab building is more energy efficient is that its sub-assemblies are constructed in-house, therefore, all extra materials left can be recycled. While in traditional method, the waste is sent to landfill from the construction site. This method of construction tend to have more accurate construction, tighter joints and better air filtration.

Financial Savings

Financial saving is another advantage of prefabricated construction method. It is believed that in the modular construction, making of custom pieces can be expensive. But, in reality, it is for every budget. This method also surpasses the traditional one for cutting down the otherwise possibilities, like unreliable contractors and unproductive staff.

Flexibility

Prefab industrial and other purpose buildings can be easily assembled, disassembled after use and relocated to different sites. The other advantage is the reduction of raw material demand, minimization of expended energy and reduction in overall time. The design of such building can be altered, giving a limitless number of opportunities. The buildings constructed can be used in different spaces, as its neutral aesthetics blends well with all building types.

Consistent Quality

Consistent quality results when the sub-assemblies are made in a controlled manufacturing environment, following specified standards. While, the structures that are built at construction site mainly depend upon varied skill levels and the schedules of independent contractors. In prefabrication process, an experienced engineers develop the sub-assemblies in a weather-resistant factory, complimented by several quality checks throughout the process.

Reduced Site Disruption

The final construction site of the prefab industrial building has less chaos, as all the building components are completed in the factory. And unlike traditional construction, there are less truck traffic, equipment and material suppliers around the final construction site. During the modular construction, the laborers are free from noise, waste, pollution and other common irritants, preventing them from unnecessary distractions and interference.

Shorter Construction Time

Constructing portable structures takes lesser time, in comparison to on-site construction. The reasons being better upfront planning, absolutely no on-site weather factors, scheduling delays by subcontractor and quicker fabrication.

Safety

The problems, like dirt, moisture and environmental hazards can be eliminates owing to the fact that the prefab sub-assemblies are created in a factory-controlled environment making use of dry materials. This construction guarantees the safety of personnel as well, given to the point that they work in an indoor construction environment, prevented from the risks for accidents and other liabilities. They are protected from the on-the-job injury, as there are strict factory processes and procedures.

| | |
| --- | --- |
| Minimum Order Quantity | 1 Unit |
| Built Type | Prefab,Modular,Panel Build |
| Feature | Easily Assembled,Eco Friendly |
| Material | Steel |
| Use | House,Kiosk,Toilet,Shop |